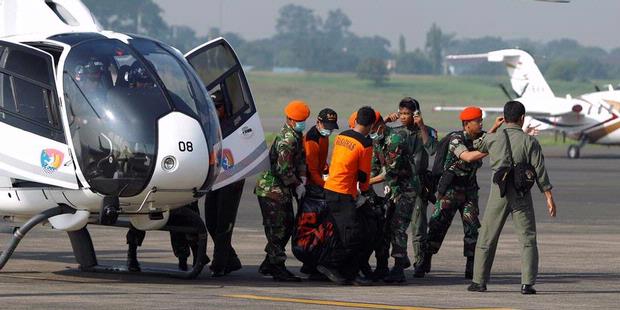 photo: kompas.com
Troops of tracking dogs are also dispatched in search of recovering more victims at the crash site of Sukhoi Superjet 100 on the slope of Mount Salak, Bogor, West Java, Saturday (12/5/2012) in the hope that more victims can be found and evacuated. SAR team that climbed up the jungle of Mount Salak found Sukhoi debris scattered along the west part of the slope from the climbing position. Till Friday afternoon, the victims of Sukhoi Superjet 100 have not been evacuated due to the extremely steep cliff toward the crash site. Besides, the travelled terrains around the crash site are too difficult and dangerous. For the time being, SAR team is making ways toward the crash site.
More and more body bags of the found victims are being transferred to the hospital in East Jakarta for post mortem preparation. Family members of the victim gather at the hospital to find out about the recovered victims but since the body condition of the victims can not be identified right away due to being mixed in pieces with other victims, family members are disappointed. However, official in charge managed to reassure them that they will be contacted as soon as pot mortem of the victims is through.
Till Saturday afternoon, there have been more than 17 body bags of the victims transferred to the hospital, and SAR team will resume the search for the remaining unrecovered victims on Sunday (13/5/2012). The remaining uncovered victims may have been scattered into a deeper ravine. More team members will be dispatched to help do the searching.
Meanwhile family members who think that there is no more hope of survival hold a religious ceremony over the death of the victims, while some others positively hope that there will be a miracle from God. Let's hope that there will always be possibility of survival since most the victims are not yet found.
Related News:
Sources: Newspapers and TV news