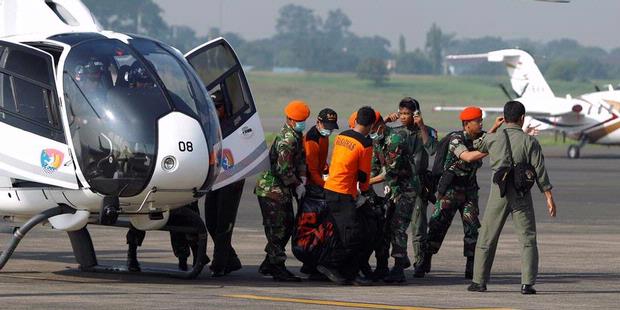 Up to the fifth day since Sukhoi Superjet 100 crashed on the slope of Mount Salak, the plane black box has not yet found by SAR team. For the time being the joint SAR team is focusing on recovering the victims of Sukhoi Superjet 100. There have been about 22 body bags transferred to the hospital. No one is sure whether 22 bags represent 22 bodies of the victims as the found bodies are scattered in pieces.
Marshal Daryatmo said that the black box might have been placed in the rear part of the plane. The plane wings and the rear part have been found by SAR team and marine troops on the slope of Mount Salak near the western part of the climbing routes from Village Pasir Manggis, Cijeruk District, Bogor, West Java, Friday (11/5/2012) but the black box is nowhere to be found yet.
"Black box is yet to be found. Meanwhile, we are focusing to find the victims of Sukhoi Superjet 100. We are sure the black box was at the rear part of the plane," said Daryatmo when reporters met him at Halim Perdanakusuma Airport, on Sunday 13
th
, 2012.
Daryatmo said that to reach the rear part of the Sukhoi plane was not easy. The team had an obstacle finding the victims as well because the plane debris was at the lowest bottom of the valley. It seemed that The SAR team has not reached the target area yet partly because of the bad weather that hindered the searching process.
The black box is highly needed to identify causes of the plane accident. It normally records everything during the flight (flight data recorder or FDR), including cockpit voice recorder or CVR. Black box functions to record the conversation between a pilot and air traffic guide (Air Traffic Control or ATC).The black box is usually placed in the rear and front part of the plane as these two parts are the solid and tough parts that do not break apart when a crash occurs. Besides, the black box is painted orange in order that it is easily observable.
Sources: Kompas and other newspapars.